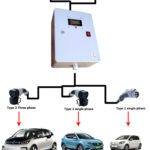 Electric Vehicles Charger Station
Compatibility with various electric vehicle (EV) models and charging connectors.
Multiple charging ports to accommodate multiple EVs at the same time.
Fast charging capability to reduce charging time for EVs.
Safety features such as overcharge protection and short circuit protection.
Ability to monitor and track energy usage.
Remote access and control through a smartphone app or web portal.
Robust construction and durability to withstand outdoor elements.
Easy installation and maintenance.
Integration with smart home systems.
Customer support and warranty options.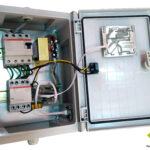 شاحن السيارات الكهربائية السريع
لتوافق مع مختلف موديلات السيارات الكهربائية وموصلات الشحن.
منافذ شحن متعددة لاستيعاب العديد من المركبات الكهربائية في نفس الوقت.
إمكانية الشحن السريع لتقليل وقت الشحن للمركبات الكهربائية.
ميزات السلامة مثل الحماية من الشحن الزائد وحماية ماس كهربائى.
القدرة على مراقبة وتتبع استخدام الطاقة.
الوصول والتحكم عن بعد من خلال تطبيق الهاتف الذكي أو بوابة الويب.
هيكل قوي ومتانة لتحمل العناصر الخارجية.
سهولة التركيب والصيانة.
التكامل مع أنظمة المنزل الذكي.
دعم العملاء وخيارات الضمان.